Strömsborg – hostel with affordable accommodation and unique location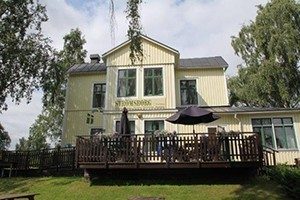 Welcome to Strömsborg; The hostel for those who want to stay central in Sollefteå, enjoy fishing, good food and beautiful scenery!
Strömsborg is beautifully situated by Ångermanälven, on the small island in the city's park area. A stone's throw from the hostel you can find restaurants, sporting and fish shop, shopping, supermarket and liquor.
It stands on a small, familiar and cheap hostels. In total there are 8-10 beds, divided into 3 rooms. Modern and fresh. Shared kitchen, TV room, shower, toilet, free WIFI, parking heater. It is also possible to rent the entire floor.
Sollefteå is located in the heart of beautiful Ångermanland, centrally located in the River Valley and near the High Coast. Annually held Nipyran and its esteemed and renowned Salmon Festival; Nipstadsfisket. This is captured in July salmon weighing over 20 kilos. At the hostel's outdoor terrace you can enjoy food and drinks while watching the exciting salmon fishing. Salmon and trout fishing takes place between May and October.
The hostel is open all year round.
Reservations are made only by phone: 070-2252322. Payment is by Giro or Swish. You get keys to the rooms at the hostels. If you arrive outside regular hours, let us know and we will arrange it!
In the area you will also find good fly fishing and not far away you will also find Sweden's best grayling fishing, (acc. Sure pacifiers SVT).
Welcome to us at Strömsborg – Ångermanlands center!